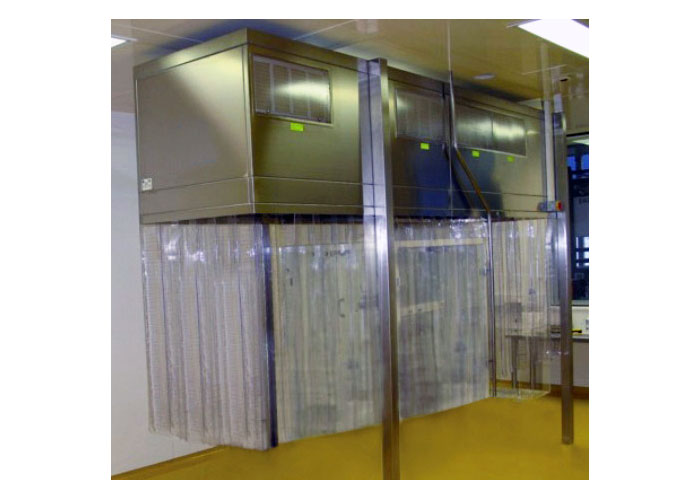 Centech make Vertical Laminar Airflow Benches designed to provide Class 100 workstations for the creation of bacterial dust-free air space.
VLAFs are used for work with low-risk substances and materials when protection of working material from the environment is necessary or the item requires a sterile working zone.
In vertical laminar air flow cabinets, the HEPA filter which is mounted above the workspace provides a taller and deeper workspace. This allows larger equipment to be used in the workspace without interrupting airflow. Reverse vertical flow cabinets can be customised easily to fit the unique need of the specific application.
Features
Air Flow Direction: Vertical
Cabinet Fabricated in SS 304/316/MS Powder Coated Structure
Polycarbonate/Glass Side Panel and Front Panel
Air velocity: 0.45±0.05 mps (90±20FPM) Below Six Inch Of Grill
Miniplate HEPA filters H-14 99.999% Efficiency 0.3µm
Pre-Filter Glass Fibre Media EU-6 98% Efficiency 5 µm
Magnehelic Differential pressure gauge
Centrifugal Or Back-word Curved type Air blower with Speed Variable
SS 304 working platform
Germicidal Ultraviolet fluorescent light
Feather Touch controller for Blower/Light/Pressure Display
DOP Port/Atmospheric Nozzles
Sound Level Minimum 65db On Scale
Power Supply Single Phase 220V 50 Hz
Applications
Pharmaceutical Industries,
Hospitals and Medial,
Microbiology Laboratories,
Chemical Research Laboratories,
Food Processing Industries,
Electronics Industries